April 28th, 2016
Left Tucson and rode against headwinds to a camp near pecan orchards.  Lots of fences and no trespassing signs but I got on an intersecting rail line and followed a rough, paralleling dirt road to the far edge of an orchard and a secluded camp.  Birds were everywhere, but this time I had binos, and got a vermillion flycatcher, a verdin, a cardinal and a few I need to look up.  Guess I'll need to add a bird book to the pay load (somebody said there's an app for it.)
The next morning I had the usual breakfast-in-bed quiet time and was enjoying coffee and looking at birds.  From behind me a family of javelinas came up but didn't notice me till they were about 30 feet away and off to my side.   Once they discovered the anomaly on their morning circuit, one let out a couple of woofy grunts- that scared the hell out of me- and then they all just stared.   Once I knew what they were I was trying to decide whether to go for a photo or just enjoy the moment.   I went for the photo and ended up not doing either very well.  As soon as I reached for the iPad panic erupted and they were going every which way trying to decide the best exit plan.  I'd  swear I saw two smack into eachother.   The babies (shoats?) were the size of Yorkshire terriers and about as frantic.   They finally collected themselves and retreated the way they came and I got one picture of the rear guard sentry.   He's visible just above dead-center of the picture but you may need a touch-screen to zoom in.
If I had to describe these animals in a word it would be "stout".   What twists and turns in evolutionary selection produced such an ungainly life form one can only wonder at.
The pecan orchards extended for about a twenty mile stretch of highway.  I found a few remnant nuts from last years crop still hanging on the trees and cracked them open to find perfectly good pecans inside.  They were great to eat, but ordinarily one would expect anything as protein and fat  loaded as a pecan to have been long consumed by any number of big or small scavengers after languishing for five months.  You would rarely find an edible pine nut after that much time.  One wonders what chemicals your eating along with the nut.  The orchards are water intensive as well with irrigation troughs making a good 2/3 of a given acreage periodically into a shallow lake.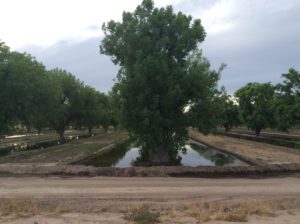 By the time I got rolling it was fairly late and headwinds had begun.  By the time I was 8 miles to the small community of Continental, the winds had shut me down.    I buried myself in a McDonalds and scammed Wi-Fi.  Towards the afternoon I chisled out a few more miles and found a relatively good camp site in secluded mesquite forest at the base of a wind sheltering hill.   Took a short hike before dark and saw several phainopeplas.  Twenty-two mile day.   Odometer turned over 1000.
Rose early the next morning to beat the wind and rode easy miles to a coffee shop in Tubac where I was greeted by an interested South African named Franz (sp) who was traveling the US.  He bought me a coffee and cake.   He left a donation as well, along with some fatherly advice.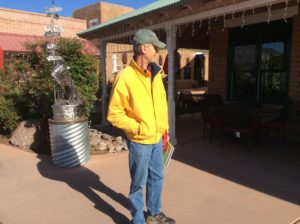 After coffee and conversation I rode the remaining miles into Nogales.  Since Tucson I had been following I-19 but along continuous frontage that avoids the actual freeway.   Somewhere after Tubac the frontage road ended and spit me out onto the freeway for a few miles.  This was actually OK since the frontage was fairly crowded and in places had no shoulder- with the freeway you get federally mandated emergency lane and, though smoothness isn't guaranteed, you get enough room that the slipstream boost of passing semis isn't totally unwelcome.  But you also get a sobering look at shredded tire debris (the bandag re-cap) and various configurations of twisted metal making you glad you were somewhere else when they flew off.   And the times sleeping close to the constant din of the highway you inevitably hear at some point in the night the familiar flap-flap of one of those bandags in the process of separating from an inside dual and the driver oblivious.  (And yes, I've been that driver.)  A cyclist is ever wary of the flap-flap coming up behind him or her.   Got to Nogales and checked into a motel and began regrouping and preparing to cross into Mexico.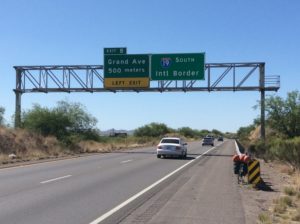 Distances this close to the border are already in kilometers, signs often have Spanish first / English beneath and most people I've encountered here speak very little English.  American Nogales is very Mexican.   It's also very friendly and the people seem genuinely happy;  rural Arizona to the north not so.