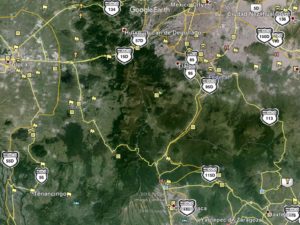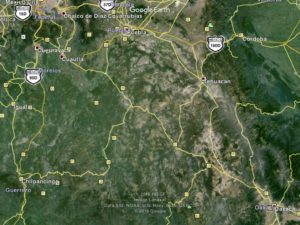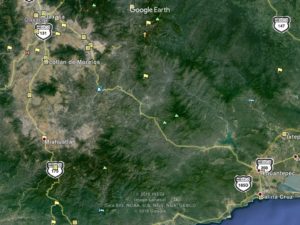 Leaving the sanctuary of Javier's and Mate's wasn't easy.  On the way out of town Javier drove ahead of me to go to a Tepoztlán bike shop where the day before we had "next day ordered" brake pads and cables.  Javier was skeptical they could get the parts and sure enough they weren't even open for business when we got there at noon.  We made goodbyes and I rode 20 miles to Cuautla and found a well stocked shop within a kilometer of the highway.  There was a decent $12-a-night hotel (with a swimming pool!) a block away so I checked in and spent the afternoon giving the bike a brake job along with putting on two new tires.  That night it rained hard and I was glad to be indoors.  It seems to rain at some point during most days now, usually in the afternoons, but it's not predictable.  The elevation is high enough that getting wet means getting cold and it's reminiscent of the Tetons or Yellowstone in the summer.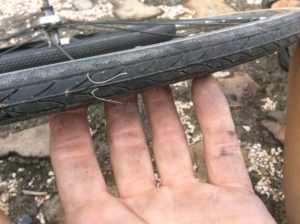 Flat farmland terrain from Cuautla leads 40 miles to Matamoros and from there into a world of hilly, serpentine and shoulderless road, but with slower moving and lighter traffic.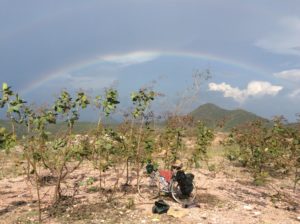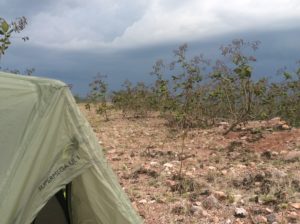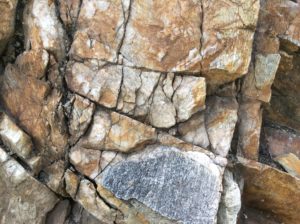 The hill climbs were long and steep.  The relatively short time spent on the downhills means most of the day is spent in first-gear climbing.  You sort of just Zen-out and try to expend a minimum of effort.  The drudgery is offset by scenery, and the scenery here is greatly enhanced by cleaner and drier air where you can see for great distances.   The continent is necking down and there are less sources of pollution.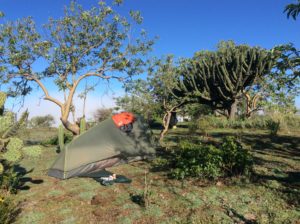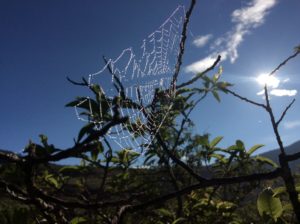 The next milestone was crossing into Oaxaca from the state of Puebla.  The Mexican states all have their own personalities, but Oaxaca sees tangible changes.  Road conditions are the first clue.  The one-inch aggregate used in some of their asphalt bounces you around a bit and it was sometimes tough to get speeds more than 8 or 10 mph.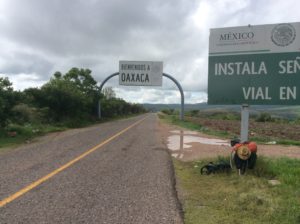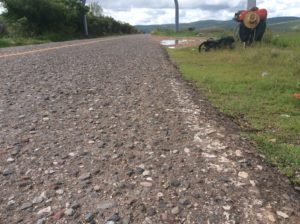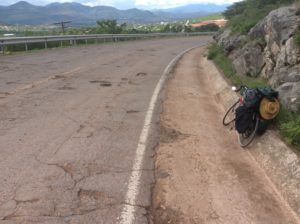 The mountainous terrain north of, and including, the valley of Nochixtlan is underlaid with a soft, red, sandy clay that must be on the order of hundreds, perhaps thousands, of feet thick.  If this terrain were to be buried again for a 100 million years and then re-exposed, the result would be another rock-hard Colorado Plateau.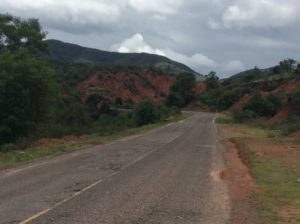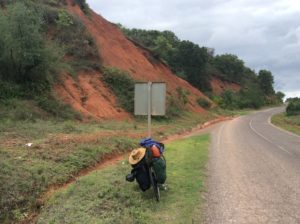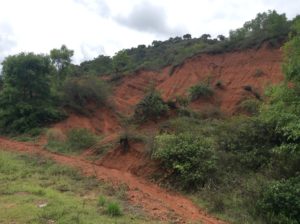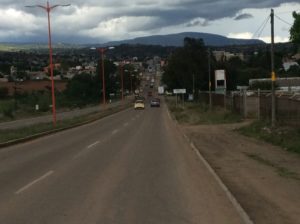 I pulled into the beautiful town of Nochixtlan that lies in a valley of more red ochre clay.  Storm clouds were gathering and it didn't take much persuasion to talk myself into another $15 hotel.  They had a good restaurant and I was able to catch up on the blog over a meal.
The next morning I was greeted on the way out of town with road blocks in the form of busses and semi tractor-trailers parked across the highways and tires lit on fire in the middle of the road.  After some broken dialogue with bystanders I learned it was a protest over the arrest of two teacher's union activists.  The Mexican government has for some years been trying to impose a standardizing process for teacher accreditation that's meeting with resistance in poorer, rural areas where many families are indigenous.  And I'm sure the situation is more complicated than just that.  The problems date back to 2006 when protests turned violent and made world news.  An Indymedia reporter from the US was killed.  People indicated that it should be no big deal for me to ride around the blockades and continue on, which I did.  After a few miles of stopped traffic that extended beyond the town the road became deserted and I had traffic-free travel 50 miles to the city of Oaxaca.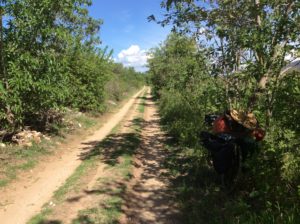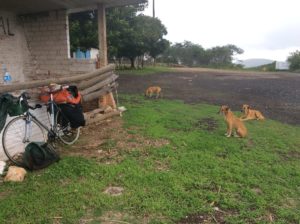 Oaxaca city is the capitol of the state of Oaxaca and set in a verdant valley over 5000 feet in elevation.  Its name derives from a Spanish mispronunciation of an Aztec/Nahuatl word, Huâxcuahuitl, that has gone through several spellings and pronunciations since the 1500s, but means where the guaje grow.  Modern pronounciation is wah-haw'-ca.  It refers to the tree Leucaena leucocephala, a member of the mimosoid subfamily of legumes.  It has many common names, and I'm not sure what the locals call it beyond guaje or huaje.  A very fast growing tree, it has become an invasive weed throughout the tropical and subtropical world and has consequently become a candidate for biofuels.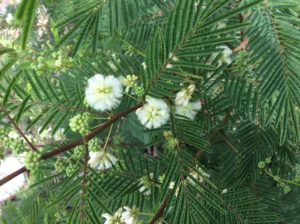 One third of the state of Oaxaca's population of 4 million is indigenous and of those half speak only their native language.  The main groups are Zapotecs and Mixtecs but 16 separate cultures are recognized.  The major language group is Oto-Manguean. 
Thirty miles southeast of the city of Oaxaca and near the town of Mitla is Guilá Naquitz Cave which has archeological findings of human habitation dating back 11,000 years.  In 2010 it was made a UNESCO World Heritage Site for being the oldest discovered place in the Americas showing evidence of plant domestication. Cultivation of modern corn's ancester, teosinte, goes back 4000 years there and Cucurbita pepo (a squash) at least 8000.  I was about 10 or 15 miles from the cave itself and probably should have taken the time to see it.  Instead, I continued on to Matatlan, the Mezcal capital of Mexico (and of the world according to the sign!) where I had lunch and a free shot of booze.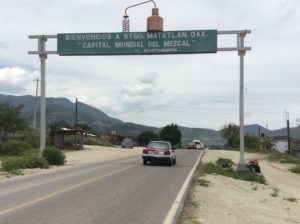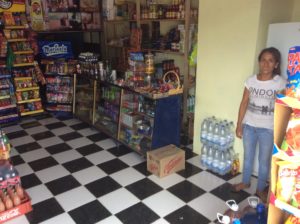 I was counting on a bank and a supermarket in Matalan, a sizable town, but found neither.  Lots of well stocked mezcal shops though, and all open for tasting.  Down to the last of my cash, I got 4 days worth of food from the tiny market, shown above, to get me to Tehauntepec, a city on the coast.  Towns in the interim may have had taco stands and a few groceries but you never know.  I stocked up on refried beans, tuna and some gamey cheese.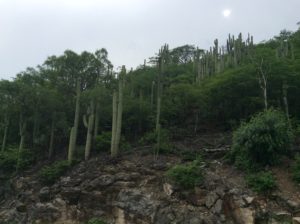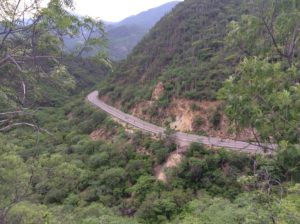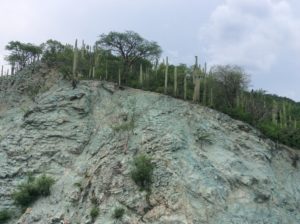 The highway then descends the Tehuantepec River, which in places is a gorge, requiring climbs of several thousand feet over passes and ridges to avoid narrows.  I camped twice at high divides and had intense thunder showers at each.  It was all I could do to eek out 50 mile days with the hill climbs.  I reached Tehuantepec pretty well beat and checked into a hotel.  I learned that the protests were still on and that there was violence and looting in Oaxaca where I just was.