January 25, 2017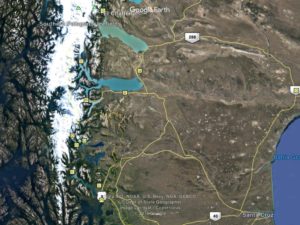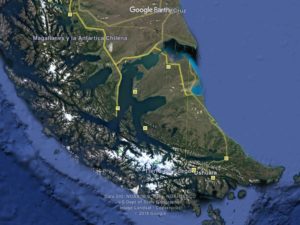 I spent over three weeks in El Chaltén.  Climbing of any kind never materialized.  To tackle a bigger peak I would have wanted to get to know partners pretty well, and it just wasn't happening.  The sport climbs near town didn't seem worth the gear rental.  Folks are pretty well teamed up before they get here and once again language barriers were an added obstacle.  I did encounter climbers from the U.S. but was discouraged by generational differences and I'm sure they thought the same about climbing with some over-the-hill-never-was-been.  Climbing was something I hoped to do more of on the trip.
Of the three weeks in Chaltén, I spent one week sick with the flu, three days of which I hardly got out of the tent.  I had a good place to convalesce though, with a camp at the outskirts of town in some old-growth beech forest.  Quiet and secluded.  Once I felt better I took a few hikes into alpine zones and near the big peaks.  Two were off the main trails, and as always, one often sees more interesting things away from crowds.  The Calceolaria uniflora being one, it was first described by Darwin himself, it's common English name being Darwin's slipper. (See last "Plants" segment).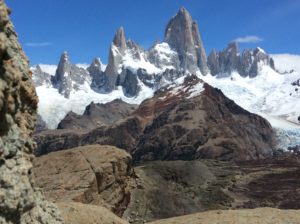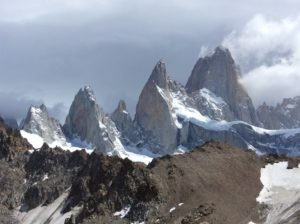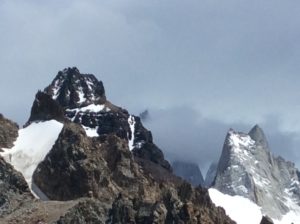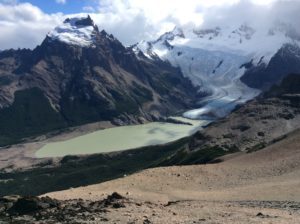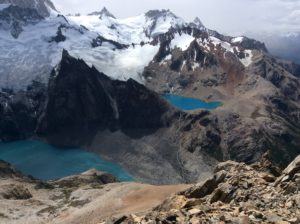 After almost a month I was ready to move on and packed to go.  Wind for the first 50 miles woud be a tailwind that blew constantly through Chaltén for the time I was there.  It could be calmer at night and in the mornings but invariably gathered strength in the afternoons and evenings.  No need for an early start this time.
I rode the wind back to the junction with Ruta 40, but then turned 120° into almost direct headwind for which it was impossible to make any progress whatsoever.  I spotted a metal shack off the highway a little ways, hopped the fence to check it out and began shuttling gear.   Good enough under the circumstances.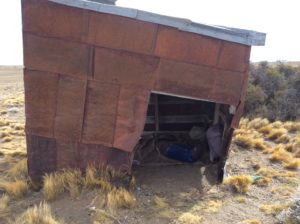 Somewhere in Peru or Bolivia I had come across a website that mapped current world wide surface wind.  It's function is ostensibly a service for wind power industries.  The site, https://earth.nullschool.net/#current/wind/surface/level/orthographic=-72.27,-56.93,3000/loc=-79.769,-48.371,is invaluable for a cyclist navigating Patagonian wind.  Since discovering the site, I would look briefly at it each time I had Wi-Fi and gained familiarity with what wind "usually" did on stretches I'd be covering later on.  With that, I could know the likelihood that bad conditions might change favorably if I waited a day or two, or whether I'd have to grim it out.  From my location at the shack I knew it wasn't probable that wind direction would change for a some distance, but that it often calmed at night.  Sure enough, around midnight, it became a tolerable head/side wind and by 1:30 am I was riding in the light of a nearly full moon, making maybe 7 or 8 miles an hour.  I was at the foot of elongated Lago Viedma, the focus of katabatic winds coming off of Patagonia's southern ice cap, Campo Hielo Sur.  After 20 miles the route ascends into foothills where I then found windless conditions in moonlight surrounded by incredible Patagonian expanses.   One car passed during the  night.
I reached El Calafate by 10 am, ate at a restaurant,  found a camp outside of town and went to sleep by early in the afternoon.  Next morning I went to town and looked at the wind map and found conditions for the next 230 miles to be a direct tailwind for 90% of the route.  No choice but to stock up on groceries and get going.  I made a 140 mile day and found another shack that appeared to be a half-finished bus stop in the middle of nowhere.  A bit drafty, but out of direct wind.  Made Rio Gallegos early the next day, but, once again, needed to wait for a change in the wind before continuing.  I checked into a spendy, but nice hotel (camping is far preferable to some of the cheaper hotels) and spent two nights.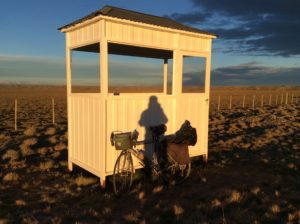 At 3:00 am of the second night I began riding in light crosswind that developed into a component of tailwind after 20 miles.  I made the Chilean border by 10 am and was confronted with more border surprises.  For these vast and desolate stretches that comprise Patagonia and Tierra del Fuego I always leave a good sized town well stocked with supplies.  Chile, in general, lets no fresh food across its border and meats, vegetables, fruits, even mushrooms, are all contraband.  I had heard rumors to this effect but the tiny stretch of dead end road one travels to the sub-Antarctic climates of Ushuaia and Punta Arenas wouldn't seem to be an area of concern.  I told them what I had.  Their response was that I would have to throw more than half of what I had away.  I explained it would be stupid to ride a bicycle out into Tierra del Fuego's no-man's land without a good stock of food.  They allowed that if the food was cooked it would be OK.  They set me up in a place more-or-less out of the wind and I boiled potatoes, hamburger, bell pepper, mushrooms, onions, garlic, broccoli (I actually eat pretty well out there) and put it all in plastic bags.  I had good treatment through it all and one guy even brought me hot coffee and cookies while I cooked.  They took me at my word when I said I was done (I'm sure they weren't blind to the virtual impossibility of something like a fruit fly destroying vineyards over a thousand miles away to the north).  I had the benefit as well of being recipient to fruit others were giving up as they crossed- they saw me there cooking and figured they'd rather give it to me than see the Chileans get it.  I left on a full stomach.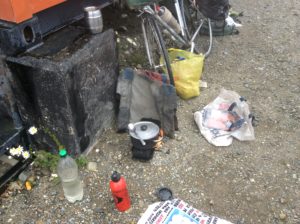 Mostly favorable wind took me to the ferry that crosses the Strait of Magellan to the island of Tierra del Fuego proper.  T. del F. is about the size of Vermont and New Hampshire combined and contains many habitats from active volcanoes to peaks encased by glaciers to miles of flat pampa.  In diminishing evening wind I rode another 20 miles and had a beautiful camp on green grass in open steppe.  Had the wind picked up it woud have been a disaster, but as it was things stayed calm.   I took no chances, however; and was riding again by 3:00 am.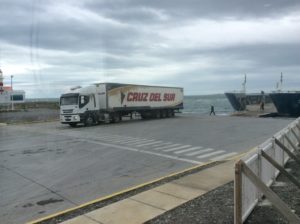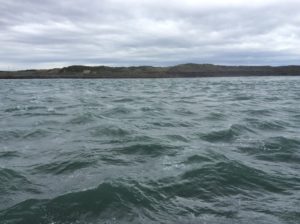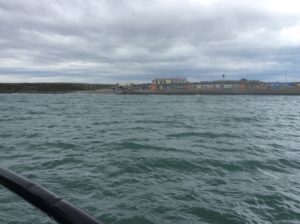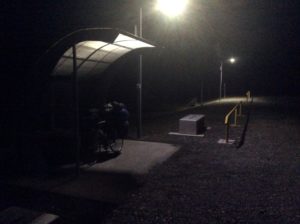 I saw a few other cyclists that day coming towards me.  A guy from Guadalajara, Mexico, a couple from Denmark, a guy from Rio de Janeiro.  These were the first I'd seen in a while.  An expected 30 mile stretch of construction and dirt road came that afternoon and slowed things a bit, particularly since it was accompanied with rain and mud.   One stretch was freshly paved but not yet allowing traffic and I helped myself to it.  The construction ended at the Argentine border and I crossed without hassle.  Another 20 miles of tailwind gave me a 120 mile day.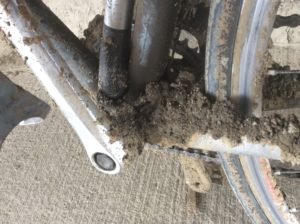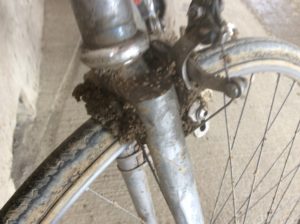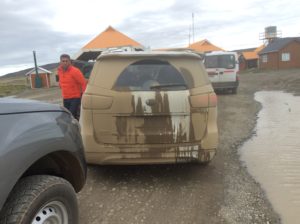 More tailwind took me 30 miles to Rio Grande, Argentina, followed by 10 miles of headwind that wrapped around again to tailwind.  Somewhere in this stretch I encountered the first cyclists from the U.S. I had seen for the entire 12,500 miles I'd traveled from Logan, Utah.  I had seen enough passing cyclists the last couple of days that I was considering just giving a wave and continuing on, but as it was I was glad I stopped.
They were a group of three and from the Northeast, but one guy, Noah, was working in Cedar City, Utah guiding outdoor trips for people with drug addictions.  As we talked the conversation naturally came to the topic of our new president and it was found we had about the same take on it all.    I was quick to mention that I had been a volunteer for the Bernie Sanders campaign, but then Cameron pulled out a photo on his cell phone of he and Bernie at Bernie's house on New Years Day.  Cameron was the Coordinated Campaign Director for the Vermont Democratic Party and his partner, Krista, was Sanders' Operations Director.   You can follow the cycling travels of Eli, Noah and Cameron on http://Www.mundopequeno.org.  Mundo pequeno indeed.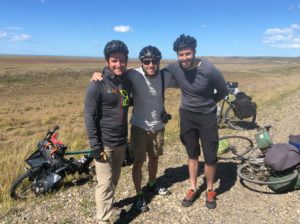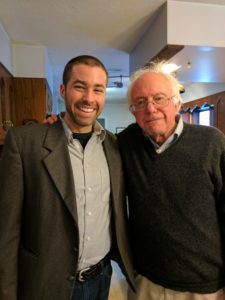 Over the two days spent in Rio Gallegos I had booked flights to Cape Town, South Africa.  The first would be from Ushuaia to Buenos Aires.  With wind being the unknown it is here, I left myself plenty of time to complete the last leg to Ushuaia.  As it was I had about a week to spare and spent a couple of days in Tolhuin at the foot of Lago Fagnano before finishing the last 60 miles.  I found a Panaderia with Wi-Fi and worked on the blog,  as well as spending time at camp finishing Nelson Mandela's autobiography as a start to knowing something about South Africa.  I was lucky to find an English version at a bookstore in El Chaltén.  I spent one morning cleaning & lubing of the bike.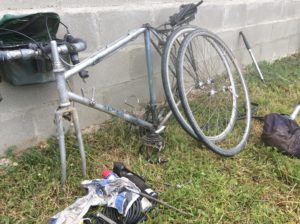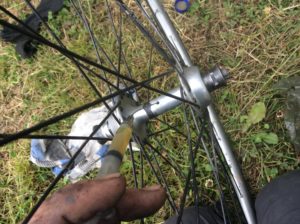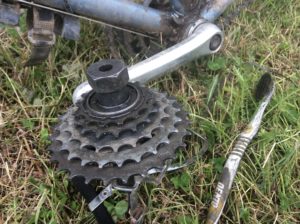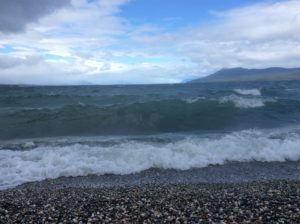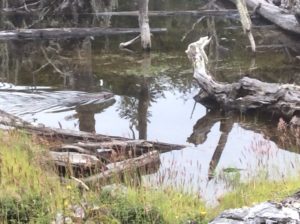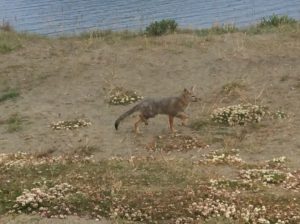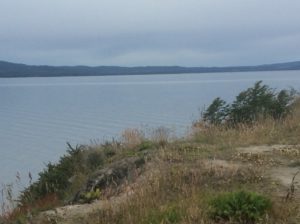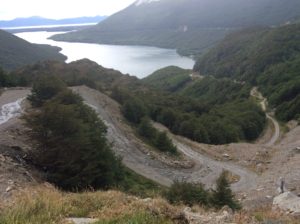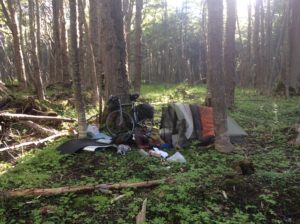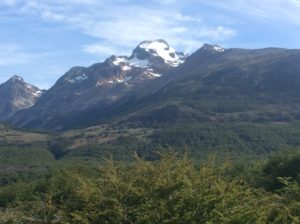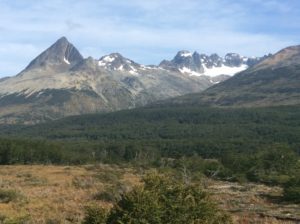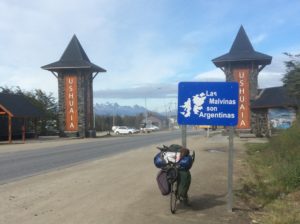 The last 60 miles to Ushuaia from Tolhuin are westerly for which there would usually be a headwind.  With time to spare I waited a couple of days and had the extrodinary luck of almost no wind at all covering the last leg.  Since El Chaltén the wind gods have treated me well.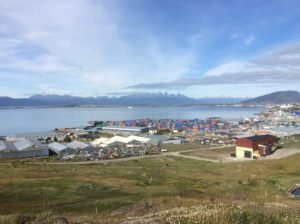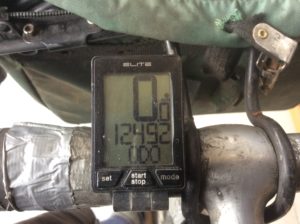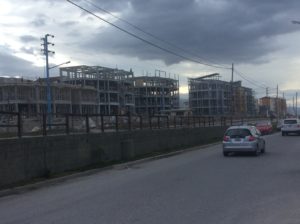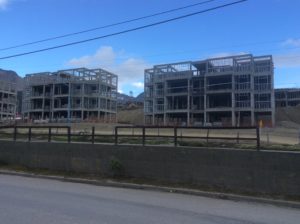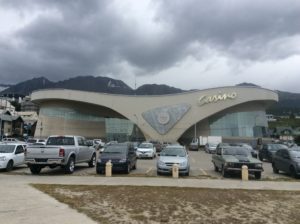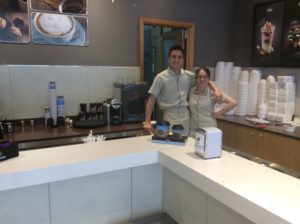 One of the tasks I wanted to complete in Ushuaia was to find a machine shop that could make a tool that would allow me to adjust a stubborn bottom bracket bearing.  The last adjustment was in Bogotá, Colombia and I cringed while this well meaning kid drove the bearing cup around with a hammer and a punch.  The crank arms were a bit loose again (bearings have worn evenly, but need replacing which I'll do in Cape Town where hopefully I can find non-metric bearing balls).  I asked around and found Diego Otamendi's shop and he built the perfect tool for me at a very reasonable price.  His daughter, Andrea, interpreted and it was fun to spend time there.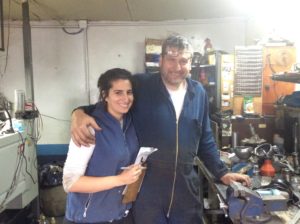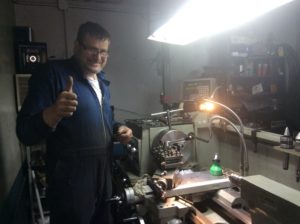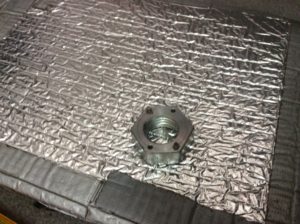 Next stop Cape Town, South Africa.