August 11, 2017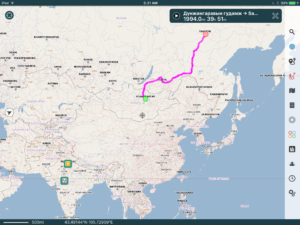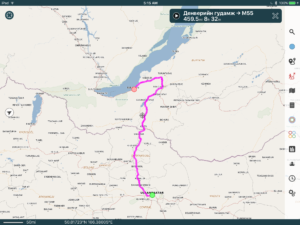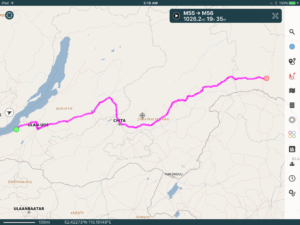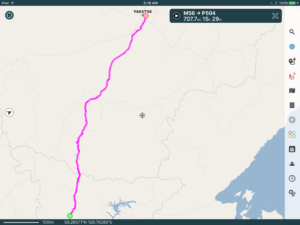 I had two weeks wait in Ulaanbaatar while the Russian visa was processed. I took advantage of the time and did a backpack trip into mountains north of UB which I accessed over dirt roads on the bike. The father of the girls running the hostel is a Buddhist monk and owns a monastery in the mountains on the way to where I was heading. They invited me to stay a night at the monastery which, nestled in a beautiful mountain valley, has facilities for retreats. I stayed one night and continued to the town of Terelj and then 20 dirt road miles up the Terelj River to Gorkhi-Terelj National Park. It's an incredible place where few cars travel and there's virtually no one going off road into the mountains. The exception is locals who collect pine nuts in the late summer and fall, but things were deserted at the time I was there.
I stashed the bike in some willows and packed the blue bike bag with 4 days of food and started up a ridge that led to alpine areas. Great camps, lots of bear and ungulate signs, saw counterparts to our squirrels, weasels and pikas. No encounters with people made for a much needed respite.
After returning to the bike I was able to continue in a loop back to UB. Then it was more languishing while waiting on the visa. UB has a yearly festival for which the city pretty much shuts down for a week while they have a sort of Marti Gras. I didn't participate in it too much and missed out on things like horse races and archery tournaments but did get in on some of the food and drink street venders were selling. The visa was ready on the 14th of July and I was packed and ready to go that morning. Got the visa at about 10 am and began the 250 mile stretch north to the Russian border. Three nights got me there. I had heard nightmares of the border taking a full day to get through, but I managed it in about an hour-and-a-half. There were however an unusual number of lines to go through, I got checked for the first time at customs while exiting a country, and then for some reason they don't allow non-motorized traffic between the border posts, a distance of about a 1/4 mile. I got a ride in a van and payed the guy almost $20 to take me through. He had to wait a bit while I convinced Russian immigration I was legitimate (they wanted to see the bike) and again while entrance customs had me dump out about 90% of the gear on the floor of the van. Much of the gear was wet from previous night's rain and after seeing blackened cooking pots, assortments of greasy, worn tools and general wear and tear on it all, the customs guy lightened up a bit and mentioned he was from Magadan, the end of the Russian journey if I make it that far.
Russian travel began with debit card issues and I was lucky to get a few groceries on a credit card. No ATMs would work and I started to Ulan-Ude, a city of 300,000, one hundred fifty miles to the north. I got to UU about out of food but thankfully found out the debit card issues worked themselves out.
I wanted to see Lake Baikal, but it is about a hundred miles to the west from UU and my route was to the east. I decided to do it anyway, though the season was advancing. As it stood I would be reaching sub-arctic Magadan in mid to late September, possibly October. Shnyeg is the Russian word for snow and they seem to use it a lot when I ask about Magadan.
I rode the first 30 miles towards Baikal with the bike loaded, then camped and cached gear. Next morning I rode the unladen bike 70 miles to the lake, had lunch and then 70 back to the cache. Long day. Then it was back to UU and an 1100 mile trek east on the trans-Siberian highway to a turnoff that leads to Yakutsk. Much of the route is through taiga but would emerge into beautiful valleys and even a section of Saskatchewan-like prairie. Though it could be quite hilly, I made good time and stacked several 80+ mile days together and one 100 miler. Highway conditions began with rough road and lots of construction, but got better as I went. I stayed in a hotel in Chita, another modern city of 300,000. Thirteen days out of UU I reached the turn to Yakutsk.
This stretch begins on newly constructed highway but after 20 miles becomes intermittent dirt/paved. Since leaving Chita I had had three truckers offer me rides. On a rough dirt section about 50 miles into the leg to Yakutsk number three pulled up along side of me and I took him up on the offer. With the rate of travel on the dirt, it would be a full two weeks getting 700 miles to Yakutsk and would put me starting an 1100 mile all-dirt leg to Magadan the last week of August. I was having visions of Franklin, Alfred Packer and the Donner Party.
So, I threw in with the trucker, "Janey" (John) and over the several days he took me about 400 miles to within 200 miles of Yakutsk. Over the time spent I evolved into a sort of employee. Janey was hauling a gold sluice and a couple of hoppers on a flat-bed trailer. With limited chains and binders it made for an unwieldy, shifting load on the rough roads and we were constantly tightening and reconfiguring. In the US he would have been pulled off the highway at the first port of entry. He did get one ticket at a police check for, of all things, having a load that was too high. That much of it was held on with nylon straps that were the next size up from motorcycle tie-downs didn't seem to matter. As far as I could understand (Janey spoke about as much English as I did Russian) he paid the ticket was with a bribe.
Janey saved me about a week of riding but took 3 days to do it so the gain was more like 4. There was no passenger seat in the cab and I sat on a tool box over the long days and rough roads. I got some rest from two weeks straight riding on the bike, but was otherwise working the whole time.
I'm staying one night in a hotel in Yakutsk (actually Nizhny Bestyakh, Yakutsk proper is an hour long ferry ride across the Lena River). There is a lot more to tell on this last leg and what's here was written in a hurry. Next I start the 1100 mile dirt road to Magadan. Not sure how it's going to go.